RTE | PRODUCTS & SERVICES
Planning
  • Sustainable Phased Growth
• Urban Corridor Systems
• Multi-modal Facilities
• Down Revitalization
• Conceptual Layouts
• Circulation Networks
• Master Plan Corridors
• Feasibility Evaluations
• Design Team Charrettes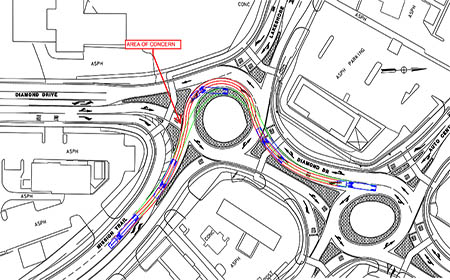 ANALYSIS
• Feasibility Studies
• Geometric Analyses
• Traffic Impact Studies
• Comparative Analyses
• Speaking Presentations
• RODEL Capacity Results
• Hand Calculated Capacity
• Alternatives Development
• Volume Analysis Diagrams
DESIGN
• High Speed Roundabouts
• Retrofitting Roundabouts
• Design Training Seminars
•  Lighting & Landscaping
• Horizontal Geometry
• Ped & Bike Facilities
• Trucks Stay-In-Lane
• Mini Roundabouts
• Signing  & Striping
PEER REVIEW
• Capacity Verifications
• Safety / Capacity Audit
• Truck Accommodations
• Operational Safety Trials
• Configuration Assessment
• Entry / Exit Path Overlap
• Fast Path Speed Control
• On-Call Public Services
• Consultant Support
FIELD REVIEW | CONSTRUCTION INSPECTION
RTE | Planning ~ Design ~ Review
The development and increasing popularity of the modern roundabout in North America is one of the most exciting recent innovations in the field of traffic engineering.  In addition to the dramatic reduction in traffic accidents that roundabouts provide, their installation can generate substantial reductions in delays and associated air emissions, improve intersection capacity and pedestrian travel, and can be a key element in improving the visual quality of roadway corridors and town centers.
Proper planning and engineering design as well as public involvement and communication of the roundabout option requires a detailed understanding of their operation, design, and implementation.  However, as with any design concept, there are correct and incorrect ways in which roundabouts can be designed.  In addition, appropriate striping, signing, lighting, and landscaping are principal keys to the success of a roundabout.  RTE staff has the experience and knowledge regarding roundabout design and operations necessary to ensure that each facility operates safely and efficiently.
RTE has limited marketing personell and rarely advertises to perform work in any jurisdiction as our continual workload is quality based and derived from previously satisfied / repeat clients.  All work performed originates from Mr. Ritchie's renowned reputation, skill, and high quality of work with a locally licensed firm or professional engineer within a jurisdiction.  On each project, Scott Ritchie assists the engineer in charge in a team effort to arrive upon the best solution possible.
"Always pass on what you have learned."  – Yoda